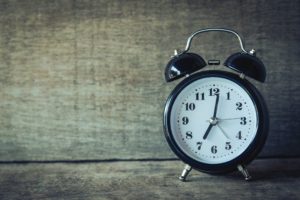 One of the most commonly used terms in Queensland conveyances is "time is of the essence". It is also probably one of the most misunderstood – by clients, agents and legal professionals who may not have worked on a Queensland conveyance before.
Most Queensland residential conveyancing contracts (REIQ and ADL) include a condition that time is of the essence.
When time is expressly made of the essence, it means that the parties to the contract have to perform their obligations strictly within the time provided in the contract.  Practically speaking, a failure by the buyer or a seller to "tender performance" at settlement is a breach of the contract and entitle the other party to exercise their rights to terminate or seek specific performance without further notice (as the case may be).  Tendering performance at settlement means the parties must attend settlement ready, willing and able to complete the sale.  From a seller's perspective, this means that they must have procured any necessary mortgage releases (usually by arranging for the financier to attend settlement) and signed any necessary transfer documentation.  For the buyer, they must attend settlement with the appropriate amount of money in the proper form.
When a contract states that something must be done between specific hours (the REIQ Contract, for example, states that settlement must be effected between 9.00am and 4:00pm AEST) and time is of the essence, time will be of the essence for the last hour.
Courts have found that strict compliance with times is required.  In Imperial Bros P/L v Ronim P/L [1998] QCA 444, the Queensland Court of Appeal upheld as valid a termination where the buyers attempted to tender for settlement a few minutes after the allowable time (5.00pm in that case)
In what circumstances can time cease to be of the essence?
The standard REIQ contract includes some provision for the suspension of time being of the essence – these will generally apply in "Natural Disasters" where a party is not able to perform a settlement obligation solely because of a Natural Disaster.  A "Natural Disaster" is defined in that contract as being a 'tsunami, flood, cyclone, earthquake, bushfire or other act of nature', and the contract allows for a suspension period of between 5 to 10 Business Days.
When both parties are in breach of the settlement obligations (ie. where neither party tenders for settlement ready, willing and able to complete) time will cease to be of the essence.  This can be corrected in certain circumstances through the issuing of a notice making time of the essence again (commonly referred to as a notice to complete).  For such a notice to be effective it has to contain a number of key elements that have been determined by the courts.
What does this mean for you?
It is important that when you are a party to a conveyance that you understand the importance of time frames – this means that you should ensure that you provide timely instructions to critical parties such as your solicitor, bank and agent.  The courts are unsympathetic to parties who are not able to tender for settlement because of foreseeable circumstances – most commonly this will be the financier taking longer than usual to prepare releases or funds – ultimately the contractual liability will rest with the defaulting buyer or seller.
How can we help?
QConvey are residential conveyancing experts and we deal with hundreds of conveyances throughout Queensland.  With the expertise of experienced conveyancers and solicitors, we are able to deal with all aspects of residential conveyancing – even when things go wrong.
Please contact us for an obligation free, fixed price quote for your conveyancing.